Come and Play an Instrument Open Day 2023
The Annual Ealing Junior Music School (EJMS) Come and Play an Instrument Open Day, where we throw open the EJMS Instrument Cupboard doors, will be on Saturday 20 May 2023 from 2.30pm to 4.30pm. FREE ENTRY at Twyford C of E School Acton W3; FREE PARKING @Twyford School's Sports Centre. A wonderful opportunity for youngsters aged 3 to 18 to "have a go" on a musical instrument. From Trumpets, Horns, Trombones to Oboes, Bassoons, Violins, Violas, Cellos, Double Bass to Flutes, Saxophones, Clarinets & Drums Percussion, your children can try them all with expert help from the EJMS music teachers & wonderful students. Loads of Stickers to collect! Our legendary Musicianship Classes which are fun musical foundation groups for children aged 3-9, will be having hands-on drop in Workshops, so something to do for the whole Family. Refreshments on sale, no advance booking needed, just turn up on the day.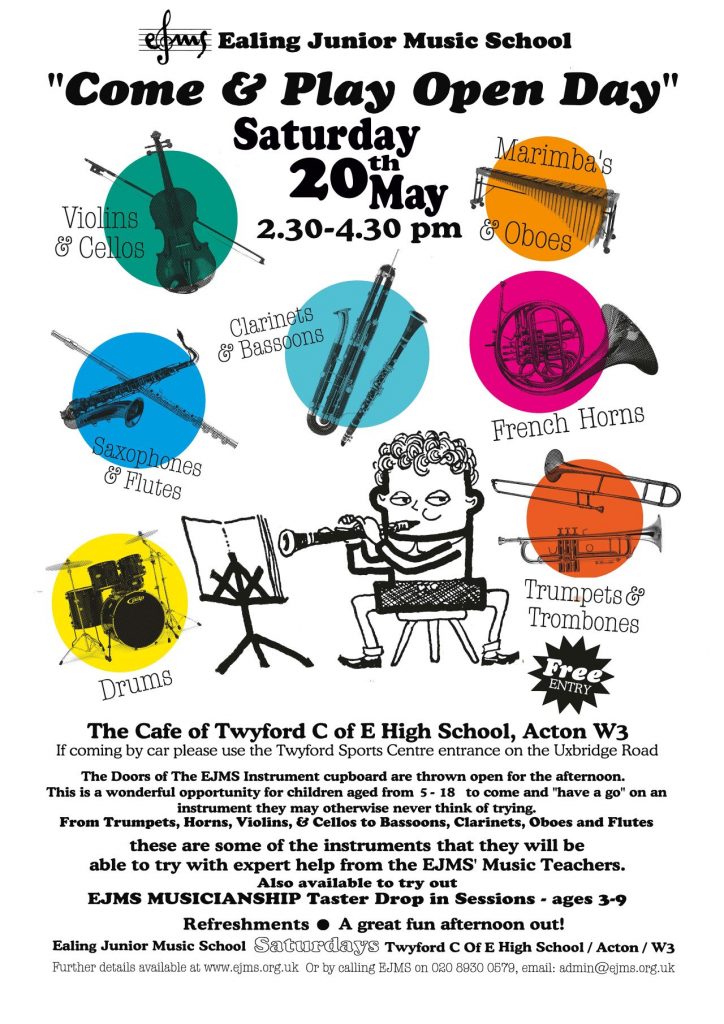 All are welcome, but please be aware that instrumental lessons at EJMS are for children age 5+.
NB. EJMS does NOT teach piano or keyboard.